You deserve a machine you can rely on.
If you're thinking about buying a refurbished Toughbook, you may have some question and concerns. Nobody wants to gamble on a machine that might work fine, but might flake out when you need it most. We at Bob Johnson's Computer Stuff, Inc. want you to feel the utmost confidence in the products we sell. We believe our customers deserve reliable machines. That's why we make sure every refurbished Toughbook that leaves our warehouse works as well as it did when it left the factory floor.
Quality Assurance Inspection: We quadruple check every Toughbook we sell.
You may wonder what exactly you're getting when you buy a "refurbished" laptop. Do we just clear the hard drive, wipe it off with a rag and send it out? No! Each and every unit we sell has gone through a comprehensive, point-by-point inspection four times before they ship out.
The Life of a Bob Johnson's Computer Stuff, Inc. Refurbished Panasonic Toughbook
1. Purchasing: Many of our Toughbooks come from leasing agencies who need to unload units whose leases have expired. Bob works diligently with multiple leasing agencies to ensure that we are always able to maintain a regular inventory at a low cost. We also take trade-ins and keep our ears to the ground for good deals that we can pass on to you.
2. Arrival: Our trusty neighborhood UPS delivery man brings us new packages every day.
3. Check-In: All deliveries are opened, cross-referenced against the packing slip, given an ocular pat down, and separated according to their condition.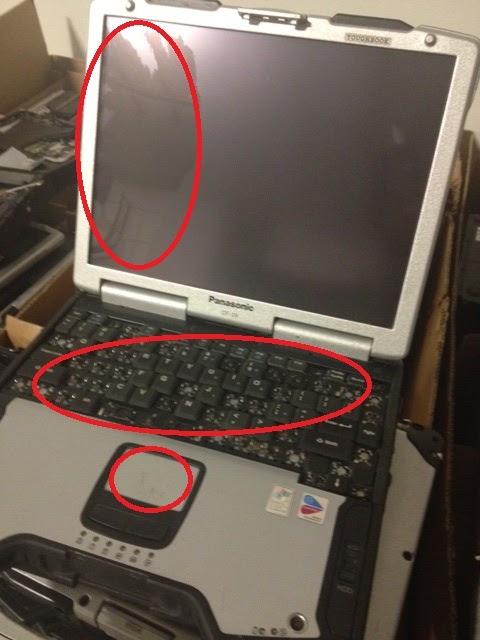 4. Quality Control: Units that don't meet our high standards are put aside. Units that are in Grade A condition with minimal-to-no cosmetic damage are loaded with an operating system so we can fully test all the machine's hardware, including the hard drive, USB ports, touchscreen and all the other bells and whistles.
5. Repair: If any defects are found during the hardware check, our technicians repair or replace the defective part(s).
6. Cleaning: Using several high-tech cleaning tools, we finalize the refurbishing process by thoroughly cleaning the Toughbook to ensure that it looks as close to new as possible.
7. Inventory: The squeaky-clean and finely-tuned Toughbook is then shelved in our climate controlled warehouse until it is sold.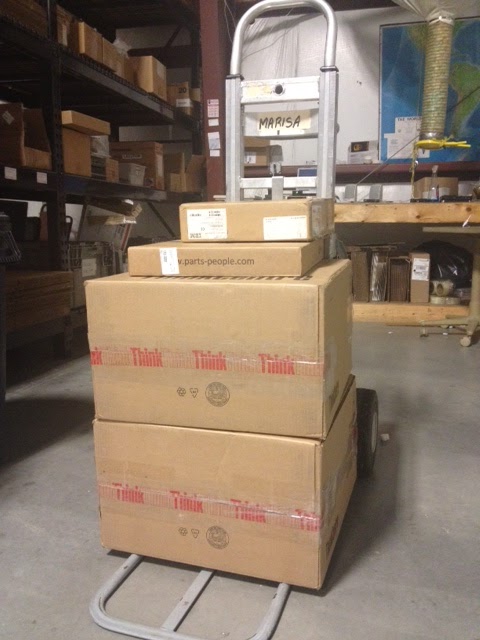 8. Shipping: Once you order your refurbished Panasonic Toughbook, we add any purchased upgrades, apply applicable license tags, install needed software (we never load bloatware into your machine), retest all the hardware, clean it one last time, and securely package it.
9. Delivery: The Toughbook arrives via UPS to your door, ready to work hard for you, wherever you need it to.
Limited Lifetime Warranty
Just to make sure you're as confident as you can be in your new purchase, we back it up with our Limited Lifetime Warranty.