Posted by Jackie Anderson on 17th Aug 2021
Update 10/05/2021: The Windows 11 upgrade has officially been released!
The official Windows 11 system requirements remain the same as listed below. Stay tuned for more information.
Love it or hate it...
Rumors are circulating that Windows 11 will be released in October (although Microsoft originally stated that it was to be released by the holidays). In fact, some have speculated that October 20th might be the day of release, but of course this has neither been confirmed or denied by Microsoft.
If you happen to fall in the "love it" category and you're currently a member of the Windows Insider Program, a beta version(Windows Insider Build) is available for you to download now. Of course, we advise you to consider all that the beta version entails (bugs and issues still to be resolved). The good news is, if you're not ready to upgrade, there is still plenty of time- Microsoft won't end support for Windows 10 until October 14th, 2025.
That being said, we want to help you make an informed decision one way or the other. So, let's get into the details: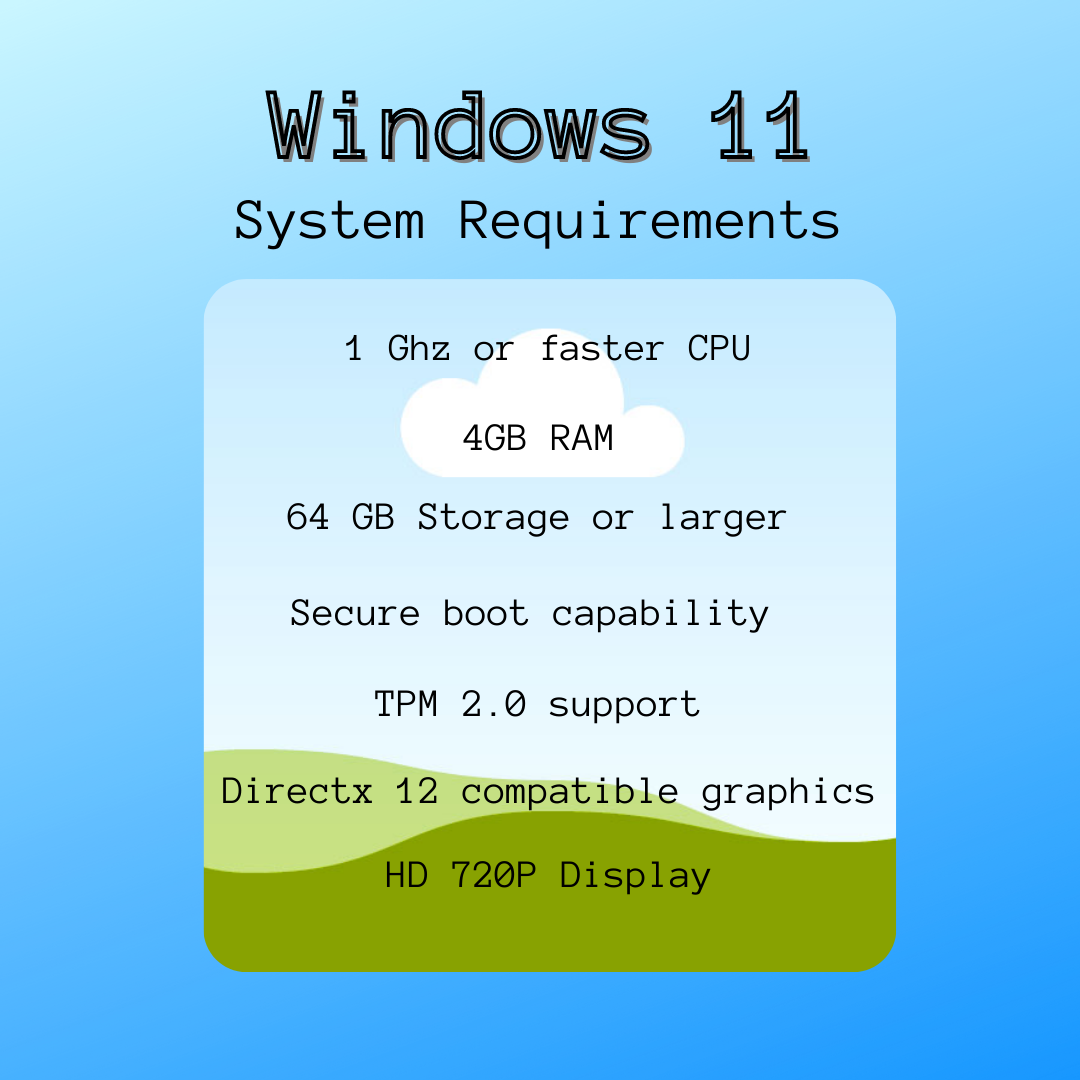 The most hotly debated of which includes the TPM 2.0 requirement. As it's not present on every device, many who have tried Microsoft's "PC Health Check" app (in order to verify that they meet minimum system requirements for download) have failed.
With loyal Microsoft users experiencing much confusion and uncertainty over this issue, Microsoft removed the app from their site entirely until they come to a final decision on whether or not they will stick to these restrictive requirements.
In spite of all this- you might still be wondering...
What will it be like?
Here's what we know: the update is largely aesthetic with some improved technical aspects.
You can expect highly customizable themes and colors, and rounded edges on icons and menus. Additionally, the start menu will move to the bottom center of your screen (which can be changed),widgets will be on the left hand side of the screen, and there will be bigger, more accessible buttons for Bluetooth, Wi-Fi, and volume.
On the more technical side of things, you will notice that Microsoft Teams comes pre-installed for you. Also, settings will take the place of a control center.
Some other features of note include; the ability to switch between multiple desktops, the ability to use Android apps through the Amazon store, auto HDR for gaming and videos, and finally, faster updates with smaller installs. Additionally, updates will be yearly instead of twice a year.
How will this affect your rugged computer?
Fortunately for our rugged aficionados, Toughbooks such as the CF-20, CF-31, CF-33 and some marks of the CF-54 might be eligible for a TPM upgrade, making them fit for Windows 11 (we are working to make YouTube videos regarding this in the near future, so stay tuned).
If the rumored specifications end up being true, however, you will need a seventh or eighth generation processor to download/upgrade Windows 11.Therefore, newer rugged computers like Durabooks and Dells most likely won't bat an eye, but some older models of Toughbooks and Getacs might not be compatible.
Yet, we have to keep in mind that Microsoft is still debating amongst themselves what the final system requirements should be. So, we just won't know what exactly to expect until then. Rest assured though, that as we find out new information, we will share it with you as always.