Posted by Ed Lasher on 27th Jul 2015
A few months ago, we got an email from the Lake Hallie Police Department, a modest operation in a small Wisconsin town. A nearby K-9 program had failed to get off the ground after the municipality decided not to approve funding, leaving behind Kita, a German Shepherd officer-in-training. The Lake Hallie PD stepped in to give Kita a new home, but with no established K-9 unit and their own set of budgetary concerns, they knew they would need help to succeed.
Attached to the email was a picture of Kita.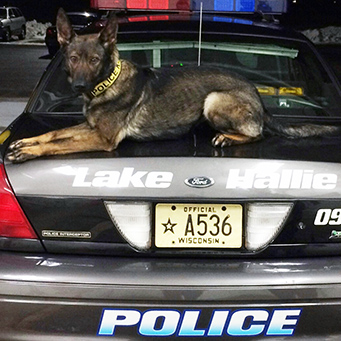 Who can say no to that face?
"All right, all right," we said. "How can we help?"
They had the training officer, they had the patrol car and they had the dog. All they needed was the Mobile Data Terminal--nothing fancy--just a basic rugged laptop and, if possible, a vehicle mount.
Over the course of a few phone calls, we got a sense of their needs and put together a suitable package: a Panasonic Toughbook CF-30 with a few upgrades and a RAM Mount for their Ford Crown Victoria Police Interceptor. Then we gave it to them for free because, well …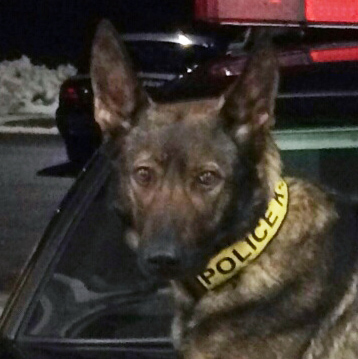 Who's a good girl? You are! Good girl, Kita!
What would you have done? We're not made of stone. We probably would have given this dog Bob's power of attorney if they'd asked.
Our main point of contact in Lake Hallie was Officer Adam Meyers. We recently sat down with him to learn more about his department, the K-9 program and Kita.
---
Bob Johnson's Computer Stuff, Inc: Am I correct that this K-9 program sort of happened accidentally?
Adam Meyers: Yeah, Kita came from another department a county north from us. They decided not to continue with establishing a K-9 program. To the best of my knowledge, our chief [Cal Smokowicz] always believed in the K-9 program because he came from another department that had one, and I think he was always thinking about getting one sometime in the future, and we had this opportunity, so we ended up being able to acquire Kita from another agency and we started our program in December of last year.
BJCS: How did you guys handle suddenly having a K-9 unit?
AM: Our K-9 handler is Sergeant Dan Sokup. He's been attending a lot of training with Kita, and we've been doing research on what is needed to have a successful program. Also, some of our officers have had experience with departments that have had K-9s, so they provide their insight as to what worked and what didn't work, and we just go from there.
BJCS: Do a lot of departments around you have K-9s?
AM: We're located between the city of Eau Claire, which has 65,000 residents, and Chippewa Falls, which has I believe about 14,000. We have the only K-9 program in Chippewa County. The City of Eau Claire Police Department has a K-9, but we are the only K-9 program in Chippewa County, and it's the very first K-9 in Chippewa County.
BJCS: So Dan Sokup wasn't a K-9 handler before this?
AM: Correct. He's been with the department many years now. He was promoted to sergeant, so he's actually second in command of the police department. He was selected to be the K-9 handler. With that, he takes Kita home with him, he lives within the community and has his own take-home patrol vehicle. That was one of the reasons why I started looking for a mobile data computer, for his patrol vehicle.
BJCS: Speaking of the mobile data computer (MDC), what role will it play in Sgt. Sokup and Kita's police work?
AM: First I want to thank you for this generous donation, because it is a very important tool for us. The MDC provides far greater resources at our fingertips. It's one of the many tools of the trade, and we're lucky to have this donation.
We try to embrace technology. It assists with our mission of protecting the community. We can access national crime databases and receive real time data from dispatch, we have the ability to research histories of contact we've had with people or the different locations we may be responding to, so we can get an idea of, if we've had contact with this person in the past, what kind of situation we're going to be getting involved in. With that, it provides some officer safety. It gives us a heads up of what we possibly may be getting into before we actually arrive on the scene.
BJCS: What will be some of Kita's duties?
AM: Well, Kita has already been successful in discovering drugs. She, quote unquote, "sniffs it out" pretty good. she also has been trained in search and rescue for missing people and tracking suspects who may have fled the area. On traffic stops, with people who have a history of drugs, or have drugs in their vehicle, she's very highly trained to locate marijuana, methamphetamine, cocaine, and other drugs. She's constantly training, and she's just a huge asset to the department and a resource that, now that we have, we'll be able to provide a higher level of policing to our community.
BJCS: Sounds like she's kept pretty busy.
AM: Yeah. She's just a little bit over two years old, and she's a little cutie. She's a German Shepherd. It's neat to watch her work. When sergeant sokup gets out of sight from her, she starts looking all over for him. You know, where did he go? Where did he go? It's amazing that she can do what she does. It's really exciting to have that kind of resource available to us. She's great. She's a member of our department and it's awesome to have her.
BJCS: We're glad we could help out in our small way.
AM: You said you're helping in a small way, but this is a really big deal for us. I believe--and we all believe--that this will add to the success of the department because Sgt Sokup will have this MDC in his patrol vehicle. He can take the MDC out, he can type up reports, he can research stuff, all the different resources that are available on the internet for us in regard to drugs and crime and stuff like that, it's only going to contribute to the success of our program. That's important to us. When we got word that you guys were going to donate an MDC, we were excited. The chief and I had spoken two or three days before I contacted you, and I asked him, "What would you like Sgt Sokup to have? If you could have a few things, what would be something important?" and he said, "Well, I'd like him to have his own MDC, just assigned to the K-9 program so he can always have it with him." Then, a couple days later, we got a response from you guys, and it's great. It really means a lot to us.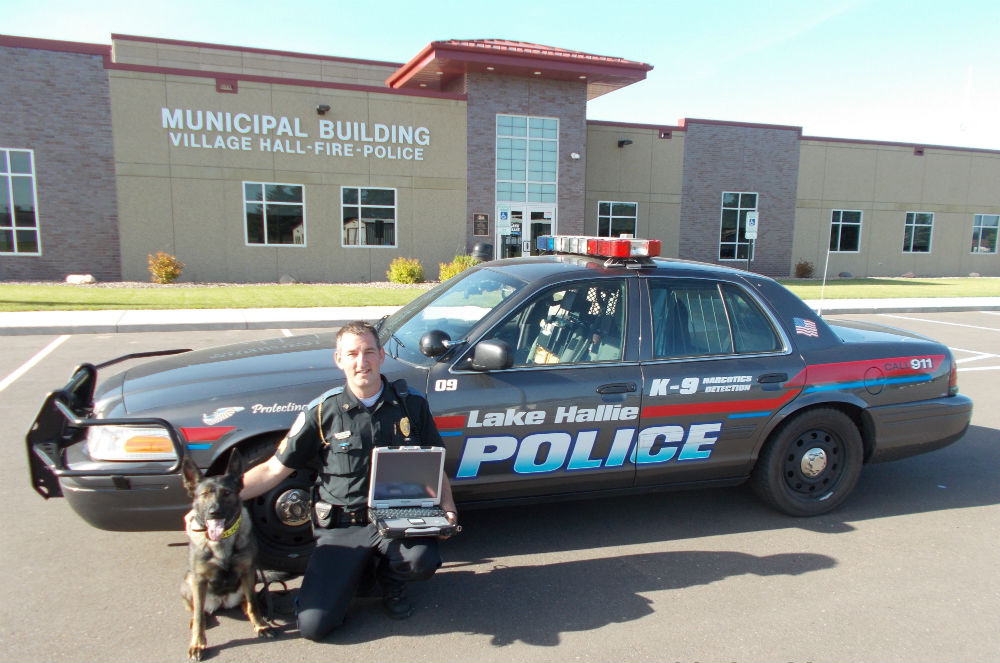 Kita and K-9 handler Dan Sokup with their donated Toughbook CF-30